During the past five decades, the AFHF has published a series of airpower history books. Many of these works have stood the test of time and are still important and relevant to both Airmen and Guardians. The early books written by Robin Higham are sweeping surveys of US and Soviet aircraft. Most of these highlight people and leadership in the formative years of airpower. While most are no longer being printed, a clever internet search may help find available copies.
AFHF and Air University Press are in the process of establishing a joint publishing venture that intends to rejuvenate, in an exciting digital format, the most significant of these books and other new titles as well.
The first of these will be an expanded version of A Few Great Captains: The Men and Events that Shaped the Development of US Air Power, by Dewitt S. "Pete" Copp (1980). The AFHF/AU Press version will include a new Foreword and Afterword, additional images, and a research guide to sources used by Copp in the writing of the book.
This project harkens back to the Foundation's original charter that includes the challenge to work with Air University, and to serve as a focal point for the publication and dissemination of service history.
Flying Combat Aircraft of the USAAF-USAF, edited by Robin Higham and Abigail W. Siddall, 1975
Soviet Aviation and Air Power: A Historical View, edited by Robin Higham and Jacob W. Kitt, 1977.
Flying Combat Aircraft of the USAAF-USAF, Volume II, edited by Robin Higham and Carol Williams, 1978
Flying Combat Aircraft of the USAAF-USAF, Volume III, edited by Robin Higham and Abigail W. Siddall, 1975
A Few Great Captains: The Men and Events That Shaped the Development of U. S. Air Power, by DeWitt S. Copp, 1980
Forged in Fire: Strategy and Decisions in the Air War over Europe, 1940-45, by DeWitt S. Copp, 1982
Hap: The Story of the U. S. Air Force and the Man Who Built It, General Henry H. "Hap" Arnold, by Thomas M. Coffey, 1982
"Air Force Spoken Here": General Ira Eaker and the Command of the Air, by James Parton, 1986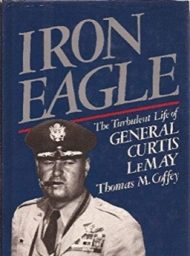 Iron Eagle: the turbulent Life of General Curtis LeMa, by thomas M. Coffey, 1986
Makers of the U.S. Air Force, edited by John L. Frisbee, 1987
Master of Airpower: General Carl A. Spaatz, by David R. Mets, 1988
Chasing the Silver Bullet: U.S. Air Force Weapons Development from Vietnam to Desert Storm, by Kenneth P. Werrell, 2003
The AIR FORCE, edited by General James P. McCarthy, USAF (Ret), and Colonel Drue L. DeBerry, USAF (Ret), 2002
U. S. AIR FORCE: A Complete History, by Lt Col Dik Alan Daso, USAF (Ret), 2006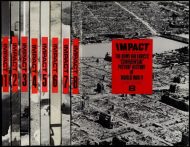 IMPACT, the Army Air Forces' Confidential Picture Hisotry of World War II, is an unclassified reprint published in 1980 of a classified magazine that had been published by the Asst. Chief of Air Staff, US Army Air Forces, for distribution to squadrons worldwide during WW Ii. The original series was published monthly from April 1943 through September 1945. The Air Force Historical Foundation version was edited by James Parton adn was published in eight volumes