The Air Force Historical Foundation is proud to present WAR STORIES!
Moderated by Edward R. Murrow Award winning broadcaster, Matt Jolley, this bi-monthly Zoom event (modeled after our Book Club program) will feature heroes, leaders, and other great story tellers. This year's theme is, "The End of US Participation in Vietnam." Matt directs the discussion with our guests creating an entertaining, informative, crowd-pleasing affair. Each episode includes a short Q&A session.
Join the viewing audience and Know the Past!
Matt Jolley
Matt Jolley is a national Edward R. Murrow Award winning feature reporter, and broadcaster who works as a host, writer, and narrator.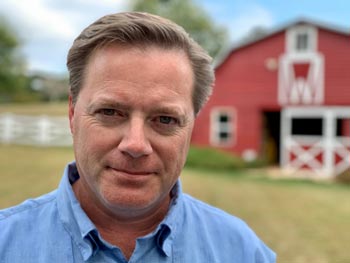 Back in the early 1990's Matt's neighbor Ron converted his living room into a television studio, and because nobody else was interested in making TV in Ron's living room, Matt got the job hosting Wildcat Corner.  Twenty-five years later, Matt's still in the media business (and so is Ron).  Matt has worked in Texas, Colorado, Georgia, Washington D.C., and even the Middle East. In addition to his broadcast work, Matt is passionate about aviation and entertains the largest airshow audiences in the world, including Pacific Airshow and AirVenture. In 2022, Pacific Airshow was the largest LIVE streamed event on Hulu, and since 2021 Matt has co-anchored the annual broadcast. Matt's work in airshows has earned him The International Council of Air Shows Pinnacle Award, and Special Achievement Award.  He calls Fair Chance Farm home, and in his spare time, cares for a vintage de Havilland airplane and one old tractor.
September 28, 2023 7 pm to 8:15 pm ET
Honored Guest:
Brig Gen Dale E. Stovall, USAF (Ret)
Dale Stovall was raised in Toppenish, Washington. He graduated from the U.S. Air Force Academy in 1967 and became an All-American in track. He has an MBA from Auburn University and was a Senior Military Fellow at the Council on Foreign Relations in New York City. His senior leadership positions include Commander of the 1st Special Operations Wing at Hurlburt Field, Florida; Assistant Director of Plans and Programs at U.S. Special Operations Command at MacDill AFB, Florida; and Vice Commander of the USAF Special Operations Command at Hurlburt Field. His final assignment was as Deputy Commanding General of the Joint Special Operations Command at Ft. Bragg, North Carolina.
In 1972 then-Captain Stovall, flying an HH-53C Super Jolly Green helicopter, rescued 12 downed U.S. airmen from North Vietnam and Laos. His rescues include eight AC-130 gunship crew members (Spector 22) who were shot down in Laos; an OV-10 pilot, Captain Mahlon Long (Covey 219) in Laos; F-4 pilot Captain Lynn Aikman (Valent 04A) along with pararescueman SSgt Chuck McGrath in North Vietnam; and F-4 navigator Captain Roger Locher (Oyster 01B) who was downed in North Vietnam and evaded for 23 days.
General Stovall's combat decorations include the Air Force Cross (for the Locher rescue); Silver Star with OLC (Covey 219 and Valent 04A); Distinguished Flying Cross with OLC; and Air Medal with five OLCs.  Stovall has over 4,000 hours in the C-141, MH/HH-53, T-39, H/M/A/C-130, UH-1N, HH-3, MH-60 and CASA 212.
General Stovall retired from the Air Force in 1993 and moved to Missoula, Montana where he was a corporate pilot flying the Citation 500 and Westwind 1. He then flew for Federal Express from 1995 to 2008 and logged over 5,300 hours in the DC-10 and the MD-11.
War Stories Session Registration